What Is Hypoallergenic Dog Food?
First, we need to understand what a hydrolyzed protein is.
This is a lightweight molecular peptide. It is digestible very easily and helps dogs with food sensitivities and allergies feel more comfortable as they eat and digest. Dog foods such as this one- this Royal Canin Hypoallergenic food- are created using proteins that have been cut in half using a chemical process- aka hydrolyzing- into a simple amino acid that is practically invisible to your pup's immune system.
As a consequence of their structural makeup, dog food such as this Royal Canin Hypoallergenic Dog food is easily digested. The diet is made up of amino acids- simple ones at that- that are so tiny that your canine's immune system won't even recognize they're there.
So, hydrolyzed protein kibble, wet food, and treats are good for dogs with allergies to the skin and for dogs that have a high susceptibility to bladder stones or those suffering from IBS.
Another big benefit hydrolyzed protein dog food brings to the table is skin and coat health. The amount of nutrients contained in a high-quality food such as Royal Canin Hypoallergenic dog food is enough to keep your dog satisfied and looking great. It offers your pet long-term support plus critical nourishment that keeps their skin in good health.
Dogs with gastrointestinal issues, irritated skin, or sensitive skin can benefit from this wholesome dog food. Plus, they are highly unlikely to have an allergic reaction to the food.
Royal Canin Hypoallergenic Dog Food Varieties
In this section, we will talk about the varieties of this dog food that are available for purchase, and discuss some pros and cons for each one.
Product 1: Royal Canin Hypoallergenic Hydrolyzed Protein Small Breed
This food is ideal for the reduction of GI and skin irritations that result from sensitivity to common dog foods, especially those of low quality. It also promotes a healthy urinary tract for dogs, creating less of an environment for calcium oxalate crystals and struvite.
This food has to be approved by a veterinarian so that you can purchase it. I can attest to its efficacy. My chihuahua, Freddie, had issues with the food we initially chose for her. After trying another food and another, I finally took her to the vet to see what was up.
The vet put Freddie on an elimination diet and came to realize that her skin was becoming irritated thanks to the food we were buying. Granted, this was not cheap food from a big-box store, either!
However, I was glad to find out what was making Freddie uncomfortable and this food has been like a magic wand in making her feel and look better.
It works because of the hydrolyzed soy proteins. Plus, I liked that it was nice and small- just perfect for Freddie to gobble up at mealtimes.
Now if only I could keep her brother, a Dachshund named Willie, away from it… (yes, it tastes great, or so says Willie!) I trained Willie to stay away from when Freddie is eating using the Brain Training for Dogs program. Check it out, you won't regret it.
Pros
Small-size kibble is just right for small/toy breeds
Delicious flavor (both of my small dogs enjoy eating it)
It's a great help in the fight against urinary crystals, skin irritation, and GI issues
Cons
Must be approved for purchase by your vet.
---
Product 2: Royal Canin Veterinary Diet Hydrolyzed Protein Adult Dog Food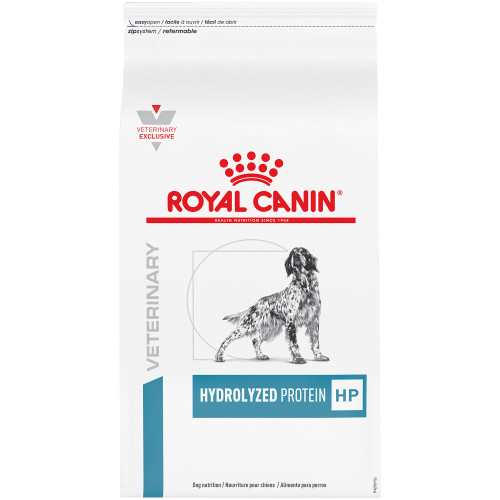 This is just the same formula as the small breed we mentioned above- but the kibbles are a bigger size and thus more satisfying for bigger dogs.
As you might expect, the highlights are the same. You can look forward to the same great formula- just in a larger bag. It's more economical for those of us with bigger breeds.
This food will help your pooch lower their GI trouble and skin issues that occur thanks to proteins commonly included in lower-quality foods.  The secret lies in the size of the proteins. They are broken into sizes less noticeable by the dog's immune system, so reactions are eliminated.
Plus, it will help your dog keep their urinary tract healthy.
Pros
Comes in a 23 lb bag
Offers dogs a complete, balanced, and healthy meal with all they need to play hard
Easy on the digestive tract for sensitive dogs
Cons
If buying on Amazon, a vet's approval is required
---
Product 3: Royal Canin Hydrolyzed Protein Loaf Canned Dog Food
If you have a dog that prefers its food served wet, this is the food for you.
These cans are great. Big dogs can eat the entire can as a meal, and smaller dogs can have it portioned out. You might seal it in a special container and label it, placing it in the fridge to serve the next day or at the next meal.
Like the other Royal Canin varieties offered here, it guards your dog against GI reactions and skin irritation that result from consuming lesser quality dog foods.
It helps reduce the risk of your dog reacting to proteins that are large enough to be noticed by the animal's immune system, also.
It also helps promote healthy skin and gets your dog all the nutrients needed to maintain their skin's well-being. Lastly, it is easily digestible thanks to the fiber blend included in the recipe. You'll find that bathroom trips and accidents are fewer and far between for your dog. And if your pup needs some additional help with going potty, check out House Train Any Dog.
When they say "any dog," they mean it. Check it out!
Pros
Great for all breed sizes
Same great flavor as other Royal Canin Hypoallergenic Dog Food
Helps dogs stay hydrated
Cons
Vet approval required before Amazon will ship this product
---
What's the Story Behind Royal Canin Hypoallergenic Dog Food?
The brand was first launched in 1968. A vet, Dr. Jean Cathasry, yearned to help felines and canines achieve good health by creating food that was based on science. The doctor wanted to create foods that were not for general dog or cat consumption, but a specific breed.
This is where Royal Canin and all of its foods came from. Eventually, the brand was purchased by Mars Pet Care, but the quality remains the same, relying on studies and science to create quality foods for our beloved pets.
The plant at which these foods are made is in Missouri, where the staff keeps it clean and sanitary.
What Are the Ingredients of Royal Canin Hypoallergenic Dog Food?
First and foremost, you should know that hydrolyzed soy is the main ingredient in these foods. This is a substitute for regular proteins that works because it absorbs fast into the dog's digestive tract and doesn't allow the body time to have a negative reaction.
And While this is a very good thing, soy does have its "cons."
Some dogs are allergic to soy. Plus, dogs are natural carnivores and soy may not have the correct amount of protein your dog needs to thrive every day. There are other forms of protein present in the formula- for example, Pea starch is used. This is a common protein booster found in many dog foods.
Other Helpful Ingredients
Your dog will benefit from the other great ingredients included in the blend, such as healthy carbs.
For example, the brewer's rice is a filler but is also a good source of carbs and energy for your dog. Potatoes are also included to boost the carb count and provide your dog a healthy method of ingesting carbs.
Vegetable oil is also included, which helps your dog's coat and skin stay healthy and looking its best.
FOS, or fructooligosaccharides are also used. This is a prebiotic designed to nourish the healthy bacteria in your dog's gut and help them digest foods easier.
These ingredients are all pretty good for dogs. Some are better than others- for example, the rice is only minimally beneficial- but when you see how it's helped other dogs with food sensitivities, you'll be sold.
Here are some other inclusions that will benefit your pooch:
A variety of helpful minerals
Fish Oil
Biotin
Taurine
Omega3 and Omega6
Amino Acids
Vitamins E, D, C, and B
Is This Right For My Dog?
You may already know that this is the right food for your pet, but only a vet can decide that. This is a vet-prescribed-only food. If you find that your dog has adverse reactions to proteins commonly found in pet foods, such as rashes or other ailments, this food is worth inquiring about on your next vet visit.
To buy the food on Amazon, you will need to send a copy of the prescription first, but the process is easy and quick.
Whether your dog is large or small, prefers wet or dry food, there is something for everyone with Royal Canin Hypoallergenic Dog Food.
That being said, there are a few cases in which you should offer your dog Royal Canin Hypoallergenic Dog Food.
They are:
Pancreatitis
Lactation
Gestation
Many Varieties Available
One huge benefit of this dog food is that aside from the different sizes and textures you can choose, there are varying recipes.
Let's go over them now.
Multifunctional Renal Support: This helps your dog keep allergies down, and bolsters kidney health plus stimulates the appetite thanks to its strong and delicious (to dogs, anyway) smell.
Urinary SO+: This recipe is crafted to help prevent crystals from growing in the bladder of your dog, which leads to a variety of health problems that are better off prevented.
Multifunction Satiety: This is for dogs that are heavy/overweight and need to drop some pounds. It offers a low-calorie count for the pet's good health, but also comes with fewer carbs and sugar. It keeps your dog satisfied while helping them achieve a healthier weight.
Moderate Calories: This is ideal for dogs that are tipping the scales at the overweight range, but aren't quite there yet. This particular recipe utilizes fewer carbs so that calories remain minimal, but the food is still enjoyable and satisfying for your dog.
In Conclusion
Now that you know all about Royal Canin Hypoallergenic dog food, what do you think? Does this sound like something your dog can use?
For me and my Freddie, it was a game-changer. My little chi is doing quite well and enjoys a happy tummy, plus I don't have to clean up as many accidents as I did before. She has less gas too- that's a relief to ALL my family!
So, go ahead and make an appointment with your vet if you think this can help your dog. You'll love how they respond to it, and they will love how they feel.